Maintenance and Repair Processes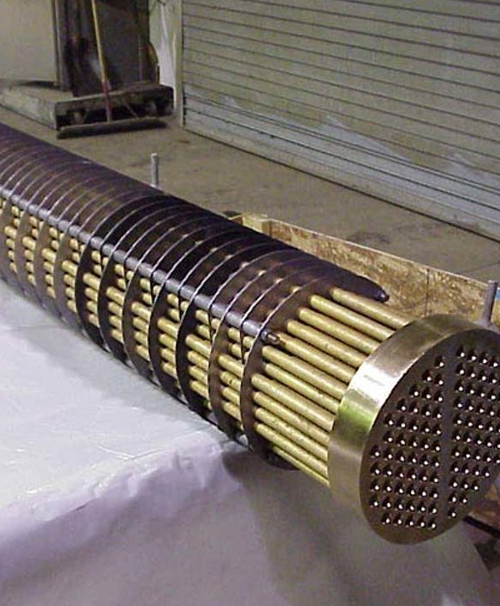 At Quintel, we are capable of handling all your maintenance and repair needs. The following are some examples of how we can help your business operate at maximum efficiency:
Heat Exchanger Retubing: This involves replacing or refurbishing the tubes inside a heat exchanger. Over time, these tubes can become worn, corroded, or clogged, affecting the heat exchanger's efficiency. Retubing can extend the life of the heat exchanger and restore its performance.

Heat Exchanger Air or Water Cleaning: This process focuses on cleaning the external surfaces of the heat exchanger, either by blowing air or using water. These methods remove dust, dirt, or other contaminants that can accumulate on the heat exchanger's outer surface and hinder heat transfer. Cleaning helps maintain or improve its efficiency.

Ultrasound Cleaning: Ultrasound cleaning is a highly effective method for removing stubborn contaminants like scale, fouling, or deposits from the internal surfaces of heat exchanger tubes. Ultrasonic waves create pressure changes that dislodge and clean the tube interiors, improving heat transfer efficiency.

Complete Heat Exchanger Rebuild: A complete rebuild involves a comprehensive overhaul of the heat exchanger. It may include replacing worn-out components, retubing, cleaning, and addressing any structural or mechanical issues. A rebuild aims to restore the heat exchanger to like-new condition, maximizing its performance and lifespan.
These processes are essential for maintaining heat exchangers, ensuring they operate efficiently, and preventing costly breakdowns or replacements. The specific method chosen depends on the condition of the heat exchanger and the maintenance needs of the system it serves.